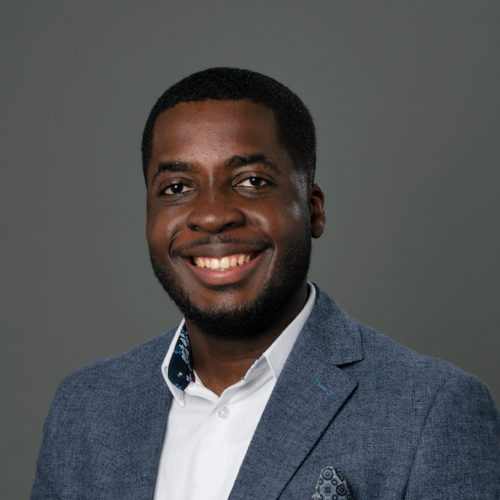 According to a global survey, around 60% of young people are 'worried' or 'extremely worried' about climate change.
At the same time, the energy industry is predicting that the total offshore wind workforce could amount to almost 100,000 between now and 2030. And by 2040, the floating offshore wind workforce alone will need a total of 67,000 personnel to achieve targets set by the UK and Scottish Governments (Energy Voice).
To mark Green Careers Week 2022, we spoke to Miracle Antobre-Seinuah to learn about his recent move from oil and gas to renewables and find out how he made the transition.
How did your career journey begin?
I've always envisioned having a science-related career. I was initially more interested in medicine but my passion for analytical thinking and problem solving saw me pursue mechanical engineering.
I aspired to work in energy so to gain practical experience during my studies, I worked as an engineering intern where I serviced subsea well infrastructure. After graduating, a role in oil and gas seemed like a natural progression.
I began my career with Kariba Engineering as a sales engineer and later joined Acteon, first as a technical sales engineer and then as a business development manager responsible for in-country sales in Northwest Africa.
Most recently, I've joined Copenhagen Offshore Partners (COP) as a project and engineering management graduate, primarily supporting Pentland. I'm grateful to be part of such an incredible team committed to making a positive impact in the energy sector.
Why did you decide to move to renewables?
In my previous roles, I gained a wealth of technical and commercial knowledge of oil and gas and quickly understood the industry's challenges and environmental impact. This made me passionate about sustainable energy solutions and interested in organisations actively working towards positive change through offshore wind.
Tell us about COP's graduate programme.
I applied for the graduate programme because I was interested in the company's growth ambitions in floating offshore wind. COP has a remarkable track record of offshore wind development and this, coupled with the urgent need to increase offshore wind to meet clean energy needs, provides a great opportunity for growth. By joining COP, and more specifically the Pentland team, I've been given the chance to contribute to this and gain invaluable experience to develop my skillset.
One key advantage of the programme is you are part of a global community of graduates, who share your journey. I've found this very helpful, especially when seeking advice to determine what I'd like to pursue in my final rotation.
How did you find the application process?
Any job interview can be nerve-racking and unsettling. Luckily, the recruitment teams in Edinburgh and Copenhagen made sure the process went as smoothly as possible.
The first stage was a friendly phone call to discuss what motivated me to apply and my career ambitions. This was followed by a group interview based on a case study and then an individual interview with my hiring manager. Throughout the recruitment process and during my onboarding period, the COP team was always there to provide support and advice.
What have been the highlights of your role so far?
My first few months in the graduate programme have been phenomenal. I'm currently on my Engineering Management rotation, where I'm assisting with the engineering design process. This allows me to interact with package managers on key design decisions that will directly influence how the project is developed. It's also great to be actively working on the Pentland Demonstrator, as I get to see first-hand the various engineering solutions being considered and learn how viable they are for future projects.
My main highlight has been attending the Floating Offshore Wind Conference and the Pentland "Meet the Developer" event series, where I met many local supply chain companies. The most important lesson I've learned so far is the value of the local supply chain and its vital role in developing Pentland, improving floating wind technologies and growing the UK's floating offshore wind market.
How helpful has your oil and gas experience been to your current role?
Extremely. I've discovered some engineering and supply chain processes are adopted across industries, and the organisational and project management skills I developed in oil and gas can be applied to offshore wind too. It's great the similarities between the two industries will allow for the oil and gas workforce to transition into offshore wind, especially as demand for personnel in this sector continues to grow.
What are your career ambitions for the future?
In the short-term, I'm looking forward to broadening my engineering and project management skills, tailoring them to suit the specific needs of floating offshore wind. What interests me the most about floating is the scalability it provides in today's energy market. It gives us one of the most viable solutions to help meet the UK's clean energy needs.
In the long run, I hope to make a significant contribution to sector development by assisting COP in identifying the potential for offshore wind in new markets.
Finally, what would be your advice to someone looking to pursue a career in offshore wind?
There is a place for you in offshore wind, regardless of your background. Before entering the industry, I assumed it was only for people with technical experience, but I've now realised offshore wind can provide an exciting career path for anyone, at any stage of their career.