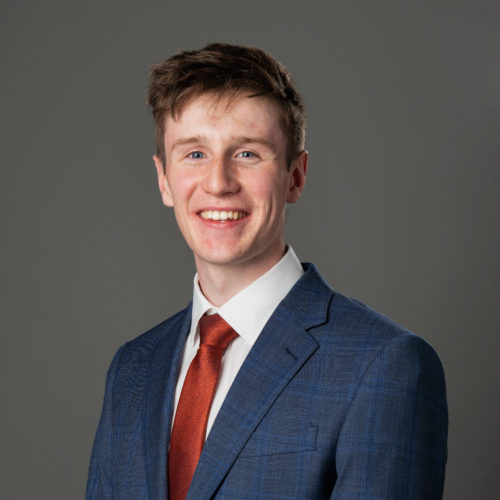 John-Joe is a great example of why industry placements are so important. He originally joined us in 2021 for a three-month internship in his fourth year at university and we were delighted to make him a permanent member of the team at the start of September.
We caught up with him to discuss his graduate programme, what attracted him to a career in offshore wind and his future aspirations.
How did your career journey begin?
From a very young age, I've always had a passion for understanding how things worked and naturally this led to me studying engineering at Strathclyde University. Originally, I wanted to pursue a career in the space sector, but after a few years I found myself drawn towards renewable energy.
I wanted to gain more hands-on experience while at university so joined a student society called Strathloop. This group focused on the development of hyperloop technology (a proposed high-speed goods transportation system with a name coined by Elon Musk). Working at the forefront of an emerging technology like this encouraged my critical thinking and sparked a desire to work in a fast-paced evolving industry, like floating offshore wind.
What were your internship highlights?
I initially started out with a three-month internship, and I must've done something right because I ended up staying on throughout my last year of studies and now, I'm employed full-time.
My main focus was investigating how changing a wind farm layout affects energy output. I was tasked with finding the optimum layout, one with the highest energy output within project constraints. Then feed these results back to the team so an informed decision on Pentland's layout could be made.
The site layout is a key parameter within the design of the project and many of the engineering packages are affected by the outcome of this investigation. So, I worked with many throughout the project team, learning about how their work affects the project. As a young intern still in university I never expected to be contributing to such key decisions.
Another highlight has been working in an exciting new industry like floating wind and being privy to discussions focused on solving complex engineering challenges.
How did you apply your learnings to your studies?
My internship taught me the aim of projects like Pentland is to work as a team not as individuals and how it's always important to consider the knowledge and experiences of others. I've also learnt to not be afraid to ask questions as the more experienced team members are always happy to help and explain areas of the business and project, I'm unsure about.
Additionally, during the fifth year of my degree, I was tasked with completing a group dissertation where our chosen topic was to investigate the sustainability of wind turbine blades. The team at Pentland were happy to support the project and guide the group in the direction of something the industry would be interested in.
Tell us about the graduate programme.
I'm happy to be back after a short break during the summer and look forward to getting more responsibility within the company.
The onboarding team in Copenhagen and Edinburgh have been amazing, making sure that the other graduates and I have everything we need. One of the draws of joining the graduate scheme was COP's global presence - there is a large pool of graduates across the world able to share their experiences and knowledge.
So far, we've spent three afternoons with the graduate team from Boston, gaining insight into the company and how the graduate scheme is going to progress for the next three rotations, the third one being abroad in another office. It's been great to talk to those working on the Vineyard project and find out what they are doing in their respective rotations within the company.
What do you hope to achieve in the future?
The current outlook for offshore wind globally shows there is plenty of opportunity within the industry to work on a variety of projects and challenges. For the next two years, I'd like to continue developing my skills in project management and gain a deeper knowledge of the design process and commercialisation of floating offshore wind.
In the long term, I hope to make a significant contribution to the development of floating offshore wind, helping to deliver the ambitious projects within COP to meet the climate goals that are required to reach net-zero.
I want to be able to evolve projects in less established markets, working on key supply chain problems and deliver clean and renewable energy to new markets.
Finally, what advice do you have for those looking to pursue a career in offshore wind?
For any other unsure student about to leave university, if you have a passion for delivering a green future then offshore wind is a career for life. There is a real demand for individuals with a passion for delivering clean electricity while solving complex infrastructure problems. This applies to almost all disciplines, offshore wind not only involves engineers but lawyers, data analysts, environmental surveyors, subsea divers and so many more roles.
As we transition to net zero, there has never been a better time to join the renewable energy sector as the demand for green skills and knowledge grows. If you'd like to join the Pentland/COP team, view our vacancies.