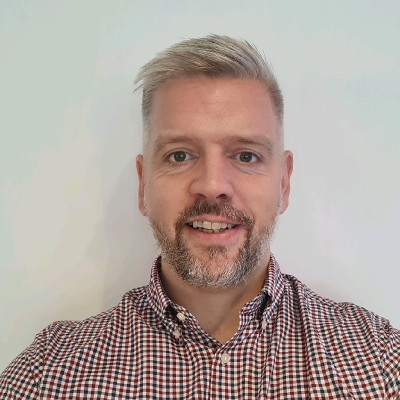 Grant Anderson
The renewable energy sector is growing quickly, providing significant opportunities across Scotland and beyond. But to maximise these opportunities, the industry needs an ambitious workforce with the right skills and knowledge to contribute to these exciting developments. Internships are a great way for industry and universities to collaborate to support the career progression of students and graduates, whilst developing the skilled energy workforce for the future.
We caught up with 42-year-old Grant Anderson, who recently completed a year-long internship on the Pentland Floating Offshore Wind Farm Project, to find out more about his big career change, lessons learnt from his experience and his advice for anyone considering a future in offshore wind. 
With the dream of becoming a pilot in the Royal Air Force from an early age, Grant started his career at Heriot-Watt University, achieving an Honours degree in Environmental Services Engineering in 2002.
His goals then changed in 2004 when he joined Northern Constabulary (now Police Scotland), where he served as a police officer for over 11 years, carrying out specialisms including firearms and public order.
When family reasons brought him back to the Western Isles in 2015, Grant moved to HM Coastguard where he held several roles from Maritime Operations Officer through to Maritime Operations Team Leader: planning, coordinating and executing Search and Rescue incidents from the Maritime Rescue Coordination Centre in Stornoway and during an 18-month secondment in London.
However, in 2019, he began exploring alternative opportunities which would allow him to progress his career while remaining in the Highland region with his family, including his two children, James (12) and Amy (9). After carrying out significant research he was inspired to pursue a career in offshore wind.
"At the start of 2020, I decided to enroll in the BEng (Hons) Energy Engineering degree at University of Highlands and Islands (Outer Hebrides) where, thanks to my previous studies, I started in third year.
"In June 2021, I saw an advert for an internship with Copenhagen Offshore Partners. The initial expectation was that the position would be based in Edinburgh and due to my location, I was doubtful I'd be considered for the role. But deciding that I had nothing to lose, I applied. 
"Thankfully, the team saw my potential and thought that my previous life and career experience would be of benefit to the company, and I was taken on board to work on the Pentland Floating Offshore Wind Farm project, which they allowed me to do remotely alongside my full-time job."
The internship programme was set up as part of a Memorandum of Understanding with UHI to deliver targeted education, research and employability initiatives and help create the skills required to develop and operate future offshore wind farms in Scotland.
"At UHI, we have a key role in providing the industry with the right volume of graduates with the right sets of skills and knowledge to contribute to the exciting developments taking place in our region." adds Dr Audrey Decou, Curriculum Development Employer Engagement Officer at UHI.
"We want to ensure that our relationships with industry translate into real and impactful opportunities for our students. Summer internships are a great way for industry and universities to join forces to enhance the experience of our students and prepare them for their next steps after graduation."
Initially, Grant planned to work on the project until the start of his final year in September. But, after completing a range of work including an Emergency Response plan, various Health and Safety documents and project processes, Grant realised how much he enjoyed the supportive and close-knit team environment.
"I was really energised to work with so many motivated and knowledgeable people across all specialisms. It gave me a real sense of belonging; being amongst people who shared the same work ethic and motivation."
Grant has always seen renewables, and in particular, offshore wind as an exciting sector, and was keen to apply his skills and experience from previous roles, while learning new lessons relevant to this industry.
"The industry is very diverse and encompasses a huge range of disciplines and skills. I was genuinely surprised at the number of people working together during the early stages of the project and how quickly the team has grown since the start of my internship.
"Having no prior experience of this industry, I didn't appreciate the importance of engaging with stakeholders on an almost weekly basis, communicating changes in project design and continually reviewing its progress.
"From working in an emergency services environment, I had developed good skills in working as part of a wider team to achieve goals, sometimes under extreme time pressures, which has definitely helped me in my role here."
An added benefit was the ability to collaborate with Pentland on his final year project. When Grant joined the team, the topic of safety zones was suggested based on his experience with HM Coastguard and the fact that an in-depth study of the Pentland Firth site was yet to be carried out.
With the rapid expansion of floating offshore projects on the horizon, the question of co-existence with other marine users, navigational safety and floating turbine movement was extremely relevant and Grant was given access to the Pentland Project data to aid his research.
"Using environmental data for the Pentland Firth site and supported by Pentland's anchor and moorings expert, Kenny Rae, I ran various scenarios, changing mooring line types and water depth. I then looked at the effect of changing these parameters on the foundation offset and mooring line tensions, carrying out calculations to support the software findings and reviewing current safety zone legislation to draw conclusions.
"Getting to grips with the complex software package was a steep learning curve for me, but it was extremely rewarding when the simulations ran correctly, and trends and patterns emerged from the results."
Grant has now completed his project, but the hard work doesn't stop there.

"Going forward, I'm excited to gain more valuable experience in offshore wind and see where that takes me. With a number of promising developments on the horizon, I can see this being a career I can stay in for the rest of my working life. It's a complete change to the shiftwork in my previous roles and will allow me to achieve a better work-life balance and spend more time with my family."
Finally, when asked what advice he'd give to others looking to pursue a career in offshore wind, Grant said:
"I believe the offshore wind industry is a career for life and roles can be found at every level - from apprentice through to experienced professionals. It's worth noting that the variety of specialisms means you don't have to be an engineer to work in the industry. You can have a background in the environment, law, planning or health and safety, to name but a few - there will likely be a role to suit you.
"With offshore wind projects being developed globally, it also offers excellent prospects for roles overseas. From my time working on the Pentland project, I've seen first-hand how quickly things can change and I love that each day brings a new challenge."
Commenting on Grant's internship, Richard Copeland, Project Director, said: "We were truly impressed by the level of support Grant provided the team during his time with us.
"This is a great example of how our collaboration with UHI to support the skills development in the renewable industry, is already making a real difference to those in the Highlands and Islands. We wish Grant well as he progresses his career in offshore wind and look forward to seeing what he does next."