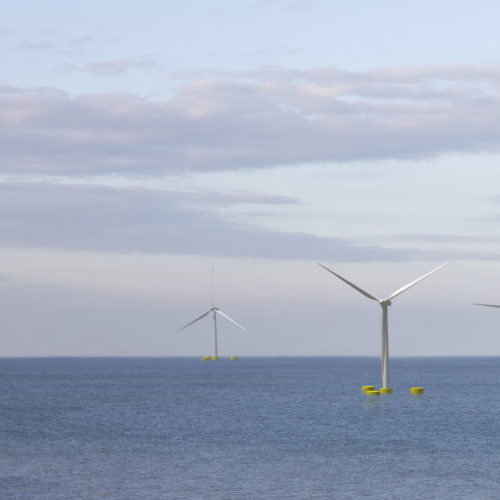 The offshore application for the Pentland Floating Offshore Wind Farm (PFOWF) has now been submitted to Marine Scotland. The 100MW development is key to advancing the deployment of large-scale floating offshore wind.
This is a significant milestone for the project and takes us closer to realising the far-reaching benefits it will bring, both in terms of supporting security of energy supply for the domestic UK market and contributing to a sustainable energy mix within UK and Scotland.
Our Project Director, Richard Copeland, commented: "The core aim of the project is to test and demonstrate floating wind technology solutions that will reduce costs and accelerate industrialisation. This will offer learnings to inform the development of future floating projects in Scotland and the UK, such as ScotWind, INTOG and Celtic Sea, and the deployment of floating offshore wind globally, while contributing to building a strong local and national supply chain for the industry."
Following extensive consultation with the local community, key changes have been made to the final design of the PFOWF to minimise visual potential visual impacts. These include reducing the offshore site area for the turbines by 50% and the maximum number of turbines from ten to seven while still delivering the same power of around 100MW.
These changes mean the overall footprint of the turbines is more compact, reducing their spread and visual impact along the coastline and minimising any potential impacts to shipping, navigation, fishing activity and benthic ecology, marine mammals and ornithology in the area.
The development benefits from existing consents granted by Marine Scotland for the original Dounreay Tri Project, which this new application will replace; a lease from Crown Estate Scotland to test and demonstrate a floating project generating up to 100MW – currently the only one in Scotland; and existing grid connection agreements.
The application to Marine Scotland is accompanied by an Environmental Impact Assessment Report and a Habitats Regulations Appraisal.
The application and supporting documentation, including the Environmental Impact Assessment Report, Non-Technical Summary, Habitats Regulations Appraisal and public notice, is available from our Document Library and from Marine Scotland's website.