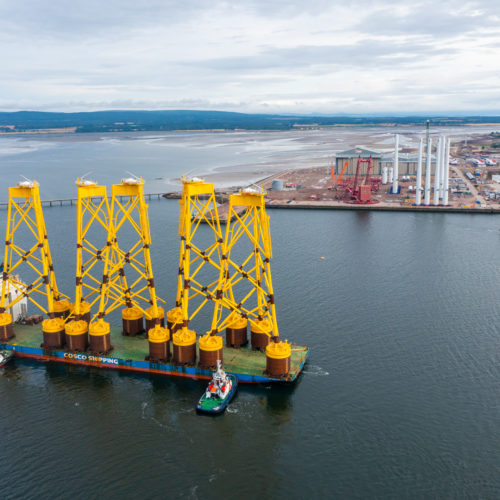 Photo credit: Global Energy Group
Copenhagen Infrastructure Partners (CIP) has given its backing to the Opportunity Cromarty Firth Green Free Port bid.
The Danish fund management company focused on green energy infrastructure, which in its fund CI IV is actively developing several offshore floating initiatives and projects across the UK, has joined the consortium, which is backed by port owners Port of Cromarty Firth, Global Energy Group, Port of Inverness and The Highland Council alongside a dozen regional businesses, public sector organisations and academic bodies.
Copenhagen Infrastructure Partners are in its fund CI IV, actively developing the 100MW Pentland Floating Offshore Wind Farm off the coast of Dounreay in Caithness, which, when completed in 2026, will be the world's largest floating offshore wind farm, and has also secured rights in the Scotwind leasing round to develop a 2.8GW floating site in the E1 Zone off the East coast of Scotland in collaboration with SSE Renewables and Marubeni.
Michael Hannibal, Partner in Copenhagen Infrastructure Partners said: "Projects such as Pentland and ScotWind along with those from future leasing rounds are highly likely to use the facilities in the Cromarty Firth. The area hosts several leading supply chain companies, as well as a locally skilled workforce and world-class port facilities. Therefore, the location is ideally suited for supporting manufacturing, assembly, installation and operations, and maintenance activities for these projects."
"Establishment of a Free Trade Zone in the area as proposed by Opportunity Cromarty Firth would encourage such projects to utilize these facilities to their highest potential. This in turn will provide significant benefit to accelerating the roll out of fixed and floating offshore wind in the UK, providing more encouragement to sustain and grow the local manufacturing base, along with safeguarding the success achieved to date in the assembly and marshalling of components.
"CIP also recognizes the Cromarty Firth's strategic position as, as identified in the Scottish Offshore Wind Energy Council (SOWEC) Strategic Investment Assessment."
For more information contact Aspect: The Strategic Communication Experts on pentland@aspectreputation.com.
About Copenhagen Infrastructure Partners
Founded in 2012, Copenhagen Infrastructure Partners P/S (CIP) today is the world's largest dedicated fund manager within greenfield renewable energy investments and a global leader in offshore wind. The funds managed by CIP focuses on investments in offshore and onshore wind, solar PV, biomass and energy-from-waste, transmission and distribution, reserve capacity and storage and Power-to-X.
CIP manages ten funds and has to date raised approximately EUR 18bn for investments in energy and associated infrastructure from more than 120 international institutional investors. CIP will accelerate its role in the global energy transition and aim to have EUR 100bn under management in green energy investments in 2030.
CIP has approximately 300 employees and offices in Copenhagen, London, Hamburg, Utrecht, New York, Tokyo, Singapore, Seoul, and Melbourne.
About Pentland Floating Offshore Wind Farm
The Pentland Floating Offshore Wind Farm will be constructed in two stages. The first consists of a single turbine demonstrator that will showcase new floating wind technology with a high potential for localisation in Scotland. The remaining turbines will be installed in 2026. Upon completion, the Pentland Floating Offshore Wind Farm will be the largest of its kind in the world.
The exact floating technological solutions for the project are yet to be determined but a key consideration is building on existing technical expertise in Scotland to maximise the opportunity to local supply chains and communities. By staging the project development, the single turbine demonstrator will provide key learnings to build out the remainder of the turbines and also aid the development of future floating wind projects in Scotland.